When you run a RealData product under Excel 2007, you may see a message saying "Security Warning Macros have been disabled." When you click "Options…" you see a dialog saying "This digital signature is invalid and cannot be trusted. The macros will be disabled."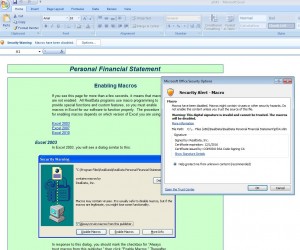 As of January 2016, Microsoft has changed the requirements for digital signatures.  Going forward, our digital signatures will not work on computers with the Windows XP (or earlier) operating system.  The signatures will also be invalid on Excel 2007 and earlier.
As a result, RealData will officially only support Excel 2010 and later versions to run our products.  However, users with Excel 2007  can work around this issue by using Excel's "Trusted Locations" feature.   You would need to add to the Trusted Locations list the name(s) of the folder(s) where you keep your RealData program templates and your data workbooks.
To add a Trusted Location in Excel 2007, click on the round button in the upper left of your Excel window, then click "Excel Options" then "Trust Center" on the left then the "Trust Center Settings…" button on the right then "Trusted Locations" on the left side of the new window that appears.
Normally, on a 64-bit system, RealData program templates are installed in subfolders of the "C:\Program Files (x86)\RealData" folder. Below is an example of adding this folder as a trusted location, along with all of its subfolders.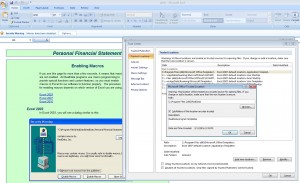 You would then also add any folders where you keep your data workbooks.