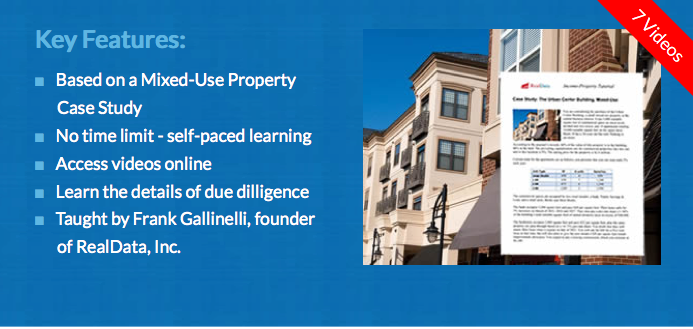 We've just released an updated version of our video tutorial, How to Evaluate an Income Property Investment with REIA Pro. We've given the video a serious makeover — additional content, better audio and graphics, greater emphasis on how to use RealData's REIA software to perform an analysis — and have added a seventh video that provides an overview of some of the software's more advanced features.
•    You get access to the web-based video series on our new e-learning platform. Watch it online at your convenience — on your desktop or mobile device.
•    The property analysis is based on a sample case study of a mixed-use property.
•    The series uses our REIA Pro product to analyze the investment, but many of of the features portrayed in the videos are found in the REIA Express edition.
•    The series is presented by Frank Gallinelli, founder of RealData, Inc.
•    Includes seven videos with over 2 hours of instruction
If you've already purchased the original release of this series, you'll receive an email with instructions on how to get the new version at no charge. If you haven't purchased it before, we invite you to download the case study and view a lesson-by-lesson synopsis.