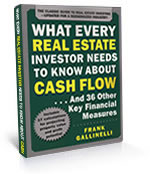 Frank Gallinelli's popular book, "What Every Real Estate Investor Needs to Know about Cash Flow…" is now available in a new third edition. Frank has added detailed case studies while maintaining the essentials that have made his book a staple among investors. The new cases show how to evaluate an apartment building, a mixed-use, and a triple-net leased property — not just running the numbers, but also looking beyond the surface data to see how you might discern what's really going on with a potential investment.
See the new edition at Amazon here.
McGraw-Hill first published Frank's book in 2003 and has since sold over 100,000 copies. For more than a decade it has been a top title in the real estate section at Amazon.
For those seeking reviews from readers, look to the 100+ reviews, which collectively rate the book at 4.7 out of 5 stars.
And finally, a visual clue: Second edition has a blue cover, new third edition has a green cover.